A Program of the St. Vincent de Paul Church Social Action Committee
How the Problem of Homelessness is Addressed
We now know that homelessness can kill.
Those on the street waiting to 'qualify' for housing use all their energy getting something to eat, dry clothes to wear, medical care, and a safe place to sleep. Newer grant programs identify and place the most vulnerable of those without homes directly in housing and then work with them to stabilize their lives. Health Care for the Homeless (HCH) is one community agency doing this kind of work. Since their grant money is limited, often there is little left for more than rent for the newly-housed clients.
Contact:
The Donation Coordinator at 410-657-5874 or by email at resource-exchange@stvchurch.org for more information on how you can participate.
What The Resource Exchange Does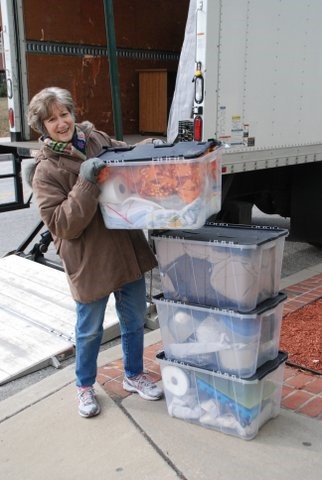 Our mission is to turn that empty rental unit into a home by providing basic furniture and household items. Our program optimizes the chance of success for those newly housed, and it affirms for each of them that there are people who care and believe in them. Most importantly, it frees up HCH grant money to place more clients in places of their own.
At this time, we only work with clients referred by   HCH, which provides ongoing support services to the newly-housed.
Often apartments have no furniture or items necessary for cooking simple meals or cleaning. There are no sheets, towels, or a bed. And yet we encounter deep gratitude for the safety of a locked door and the stability of a 'place of their own.' The Resource Exchange brings new bedding, makes up the bed, and adds towels, mat, and shower curtains to the bath. We bring living room furniture and kitchen table and chairs along with pots, dishes, and utensils.


What You Can Do
There are a number of ways that churches, groups, and individuals can be part of the solution to Baltimore's homeless problem:
As a Partner Church or Group
Provide entire Home Starter Kits on a regular basis
Collect furniture from donors and deliver it to our downtown storage facility
Join the home visitation team who sets up the new bed and unpacks the starter kits
Regularly request donations in your church bulletin or group newsletter
Financially support us as we must purchase new beds and other needed items and pay rent for our storage space
Donate gently used furniture or household goods (see below)
Financially support the program
How Does This Work?
For household furniture, The Resource Exchange (TRE) volunteers work with your group to accept donations of useable furniture. Because of LIMITED storage space, TRE can ONLY carry one month's inventory (furniture for 8 – 10 apartments). We do not take beds, sofa beds, mirrors or stemware.
For home starter kits, TRE can store several home starter kits.
Contact:
The Donation Coordinator at 410-657-5874 or by email at resource-exchange@stvchurch.org for more information on how you can participate.

Home Furnishing Needed for One Apartment
Small sofa/loveseat
End tables
Coffee table
Easy chair
Table lamps (2)
Floor lamp
TV stand
Kitchen table with 2-4 chairs
Dresser (4 or 5 drawer)
Night table

Home Starter Kit Contents
Most items may be used but in good condition.
Kitchen:
Pots and pans , covers optional (2)
Frying pans (2)
Casserole dish
Cooking utensils—spatula, lg spoons, can opener, knives
Mixing bowl, measuring cup and spoons, cutting board
Dishes: plate, salad plate, bowl (4 place settings )
Glasses and Mugs (4)
Set of flatware (4)
Plastic containers for food storage
Dish towels and washcloths (2), pot holders (2)
Paper napkins
Ice cube trays
Colander
Cleaning Supplies:
Paper towels and sponges
All-purpose cleaner
Dishwashing liquid
Laundry detergent
Small broom and dustpan
Laundry basket, hangers
Toilet brush
Plastic bucket
Bath:
Shower curtain and rings
Floor bath mat
Towels, hand towels and wash cloths (2 sets)
Toilet paper (4 rolls), soap (2 bars)
Linens:
Sheets and pillowcases for full size bed
mattress pad (new – full)
Blanket and/or bedspread or comforter (full)
Pillow (new – standard)
Miscellaneous:
Wish List (items not required for move-ins, but desired):
Flat Screen (ONLY) Televisions
Radios
Microwave ovens
Toasters
Thank you for your interest in this important ministry.  Keep in mind…
"Christ has no body now but yours
No hands, no feet on earth but yours
Yours are the eyes through which He looks compassion on this world
Christ has no body now on earth but yours."
attributed to 
Saint Teresa of Avila (1515-1582)